How yo Recharge the Fee Payments Account
With the Fee Payments Account, you receive the exact amount your customer paid on your current account.
This account is top-up by you and, in order for us to transfer funds regularly, you must always have a positive balance;
This amount is yours and will be used to pay easypay's fees;
If the balance is negative, you will receive an email with instructions to recharge it.
To recharge the Fee Payment Account:
Log into easypay's Backoffice;
"Fee Payment Account" menu;
"Recharge FPA": choose the amount to recharge and the payment method;
If you choose 'Payments Account', it means that you will debit the amount to be loaded directly from the balance of easypay's Payments Account. You will only be able to do this if the balance is greater than the amount of the charge.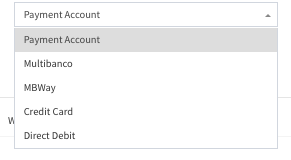 After making the recharge, you will receive a confirmation email with the invoice attached.
In the backoffice menu "Fee Payments Account" you will have access to all recharges, balance and statement.