Improve the shopping experience, reduce payment friction, and increase the average sale. These are just some of the key advantages of Buy Now, Pay Later, an innovative online payment method that allows customers to pay for any online purchase in installments. Find out what it means, what the advantages are for your business, and how to apply it.
What does Buy Now, Pay Later mean?
Buy Now, Pay Later (BNPL) allows anyone to make online purchases and pay in installments, with or without interest. Payments can range from 1 month to 1 year, allowing consumers to defer payment or spread out the cost, reducing its burden for customers.
The possibility of paying for purchases in installments is nothing new, of course. Retailers have allowed customers to pay for large purchases in installments for several years. The big news is that BNPL has carried this concept into the digital age, allowing an e-commerce business to offer online installment payments for any product, no matter how cheap it is.
The process may vary slightly, but it usually starts with the consumer selecting the option to pay online with BNPL. Then follows a brief credit assessment (which, in the case of Universo Flex, is fully automated). If the consumer is approved, the first partial payment of the purchase goes through. The next payments will be made in installments, every 3, 6, or 12 months, depending on the chosen modality. This means that the consumer does not need to be a client of any financial institution.

What are the advantages of BNPL?
BNPL has several advantages, both for consumers and for retailers. As the name implies, for customers, the main advantage is that they can buy immediately, and defer payment in several installments. The process is typically very simple and digital, just like paying with a Visa or Mastercard card.
The consumers enter the online store, add what they want in their shopping cart, and when they get to the checkout, they click on the Buy Now, Pay Later payment option. A pop-up window of the financial entity granting the credit opens up, where the consumer follows the requested instructions. Because this solution is seamlessly integrated into the online journey, consumers avoid time-consuming credit analysis processes and can keep shopping online while they apply for credit.
For retailers, BNPL is an effective tool to reduce shopping cart abandonment and increase sales. But BNPL also makes it possible to target younger audiences looking for fractional and automated payment solutions, as well as a more senior customers looking for flexible payments without complexity.
The benefits are widely recognized. According to a study by RBC Capital Markets, with BNPL retailers can increase conversion rates by 20 to 30 percent, and the average sale (the amount each customer spends per purchase) by 30 to 50 percent. The trend is growing: by 2026, BNPL payments are expected to account for almost a quarter of all global e-commerce transactions, compared to just 9 percent in 2021. In the United States, BNPL turnover is expected to exceed $380 billion annually by 2024, up from $120 billion in 2021.

GLOBAL VALUE OF BUY NOW, PAY LATER TRANSACTIONS (2022)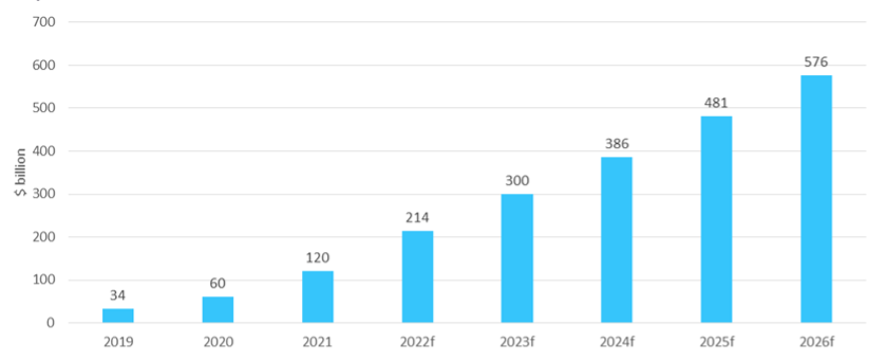 Source: GlobalData

BNPL is especially relevant for retailers and consumers because it streamlines one of the main pain points of the online shopping experience – payment.
How to implement Buy Now, Pay Later in online payments?
With Universo Flex and easypay, retailers can offer their customers a way to pay in installments with Universo Card in 3 times without interest or 6/12/24 with interest. Easypay acts as a credit intermediary, so it is not necessary for the retailers to do so. This is a partnership with Sonae Financial Services that manages the Universo Card, belonging to the Sonae Group.
If you are an existing easypay customer, adding this online payment method is as simple as saying so. If you are a new customer, you must first subscribe to easypay directly on the website, complete the onboarding process and select that you want to make available the Universo Flex payment method. In any case, before you can start selling, you must be accepted by Visa & Mastercard as a retailer.

Once approved, the retailer must integrate it via API or via easypay checkout. Finally, at the checkout, the customer selects "Universo Flex" as a payment method. Then, customers can choose the payment method they prefer directly with the Universo app. It is very simple, fast, and secure.
Buy Now, Pay Later is one of the main trends in the world of online payments, with the potential to simplify the online shopping experience and increase the average sale of any e-commerce. It is already used by companies of all sizes and sectors, and yours could be next. Get in touch with our team.